Wire Rope Safety Barrier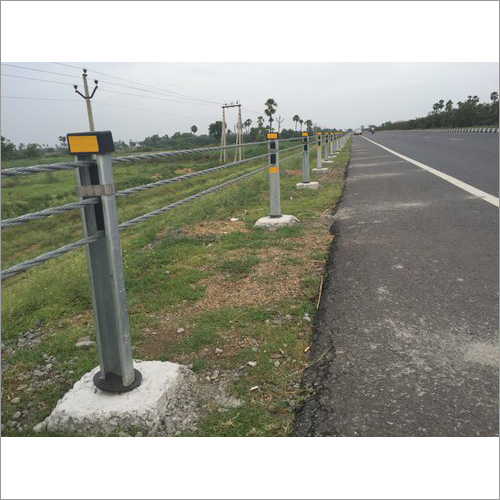 Wire Rope Safety Barrier
Product Description
CASS wire rope safety barrier is a flexible type crash barrier that meets requirements of IRC-119: 2015 and is crash tested to EN-1317:2 for H2, H1 and N2 containment level. Wire rope safety barrier addresses the issue of median or shoulder crossover accident on highway systems throughout the world.
CASS is a newly developed tested and patented systems for saving lives. CASS Increased safety for all types of traffic via the softened shape of the post and the widened spread of the cable and also increased flexibility by way of designable deflection and complete solution for practically any situation.
The newly designed post has no sharp edges or hooks that could present a hazard to unprotected road-users, e.g.motorcyclists.The patented shape of the slot keeps the cables in position during impact, resulting in noticeably lower deflections during crash tests. The deep slot in the post allows for a widened spread of the cables, which highly increases the systems ability to retain different types of vehicles. Spacers of recycled plastic keep the cables correctly positioned. Each of the three 19 mm pre-stretched cables has a minimum breaking load of 16.7 tonnes and are fitted with turnbuckles for tension adjustment. In unison, these features effectively make CASS the safest solution for cable guardrails of today.
CASS assists in re-directive errant vehicles that would otherwise traverse the median of a roadway. The unique post employs a proprietary wave-shaped slot, which works in tandem with strategically positioned cables to increase the systems ability to restrain various types of vehicles that impact the system within the criteria of the NCHRP report 350.
The proprietary shape of the post allows for lower deflections during crash tests by minimizing the length of unsupported cables. Additionally, the widened cable spread works to retain different types of vehicles.
Features:
Typically a 3 cable (pre stretched or standard ) high-tension systems.
No sharp edges or hooks in 6:1 slope systems.
Wave-shaped slot in post results in lower deflection.
Aesthetically pleasing design with no interwoven cables.
One or two Anchor at each end
Sections up to 3,000 meter
Bi-directional performance
Installation and Repair Advantages:
Posts can be driven or placed into steel sleeves (set in soil, asphalt or concrete).
Pre-stretched and tensioned cables require no maintenance by end-users.
Cables provided in convenient pre-assembled 1000 lengths (305 meters).
No interwoven cables.
Minimal maintenance and quick repair after impact by end users.